WORKING as a police telephone operator has been providing KS Pakyalakshmi Subramanian numerous opportunities to reach out to minor offenders and former convicts.
It pains Pakyalakshmi, better known as Lakshmi, 40, to see many of them go through life aimlessly as though there is no light at the end of the tunnel.
That stirred her heart to run a special centre for those on the darker side of society to reskill themselves en route to picking themselves up again.
"I have been helping these former convicts and offenders for the past 11 years.
"They include young offenders, school dropouts, B40 families, single parents, women and those from underprivileged communities.
"So, since I am working at the police station, it is easier for me to help these people to find life again.
"I don't believe in giving them hampers every time because that's not a long-term solution.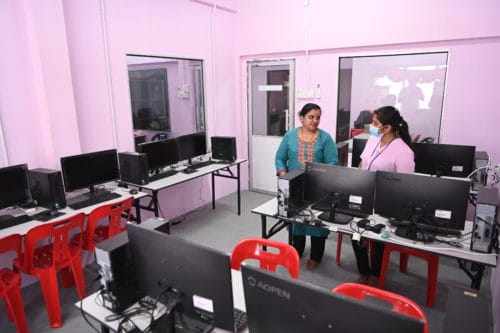 "Instead, I provide them with the necessary skills to help them earn a living.
"So, my centre organises workshops, courses and skills training to equip them so that they can use the knowledge and skills they learn to start a business," Lakshmi told Buletin Mutiara in an interview session at her special centre in Butterworth recently.
Lakshmi, by the way, was one of the recipients of the ❤️ Penang Community Awards under the LovePENANG campaign that was held recently.
The awards, initiated by the state government last year, are a token of appreciation for the recipients' selfless acts of kindness to the community. So far, 13 people have received the award.
Lakshmi, who is based at a district police headquarters in Bandar Perda, said the centre is run through her non-profit organisation known as Tamarai, which she is the founder and the president.
"I feel very honoured and grateful to receive the award from Chief Minister Chow Kon Yeow himself. This recognition is something I deeply cherish. A lot of people out there are also doing marvellous work for society.
"I always wanted to contribute back to the community and that is why I started this initiative back in 2012.
"Up until now, I have managed to organise more than 200 programmes over the years such as classes on henna art, computer skills, cooking, bouquet making, tailoring and social media entrepreneurship.
"These also include courses in electrical, wiring, plumbing, motivational, counselling, mobile phone repairing, T-shirt printing, air-conditioner servicing and many more.
"So, let's say they have the skills but do not have the necessary equipment, they can also do it at our centre here.
"We also sell some products made by them at the centre for them to gain some income," she said.
According to Lakshmi, the classes at the centre are taught by volunteers.
"Some of them also are former convicts who have picked up the skills and stayed on to teach others.
"Now, we have five in-house trainers with various skill sets and all of them are former students at this centre," Lakshmi said.
She added that the centre, on average, would conduct about four programmes per week.
"The public also can join the classes if they want.
"They can check our Facebook page (Tamarai NGO) to know more about the classes that we offer every week.
"Some of the courses are free of charge, and for some courses, we only charge minimum fees.
"The fees will then be used by us to sustain the centre's operation," she said.
Lakshmi also said she would continue with such an initiative as long as she can.
"It is important to provide all of these people with a proper support system to uplift the community.
"Every one of us should play our part. They should not be left to fend for themselves. We must be there to support them, and this is what I am doing now," she concluded.
Along the journey, words cannot describe how thrilled Lakshmi is each time a life is transformed or when ex-offenders turn over a new leaf.
Story by Riadz Akmal
Pix by Muhamad Amir Irsyad Omar