ANOTHER week of enticing treats await Penangites and visitors when the 16-day Penang International Food Festival (PIFF) 2019 continues with the Taste of Penang at Jalan Kelawei on April 20 and 21.
State Tourism Development, Heritage, Culture and Arts Committee chairman Yeoh Soon Hin said the Taste of Penang would bring together 70 of the finest hotels, cafes and restaurants in the island and mainland, offering different cuisines and drinks.
"Jalan Kelawei will play host to some of Penang's popular cafes and restaurants. Instead of having to visit Penang's many different eateries and hotels, the Taste of Penang has all the 'must eat' food," Yeoh said at Gurney Plaza when announcing the upcoming event tonight.
PIFF 2019, which was launched by Chief Minister Chow Kon Yeow at Beach Street on April 13, began with the Street Food Festival which only ended on April 14.
Penang Global Tourism (PGT) chief executive officer Ooi Chok Yan said despite the rain on both days, the weekend event attracted about 180,000 – over 93,000 on the first day and 86,000 on the second day.
Yeoh said for the Taste of Penang highlights, 18 hotels from the island and mainland such as G Hotel, Royale Chulan, DoubleTree by Hilton and The Light Hotel would showcase their best dishes while 40 cafes and restaurants such as Frad Coffee and Gelato from the mainland and Kebaya Dining Room and Cafe Lagenda from the island would showcase their signature delicacies.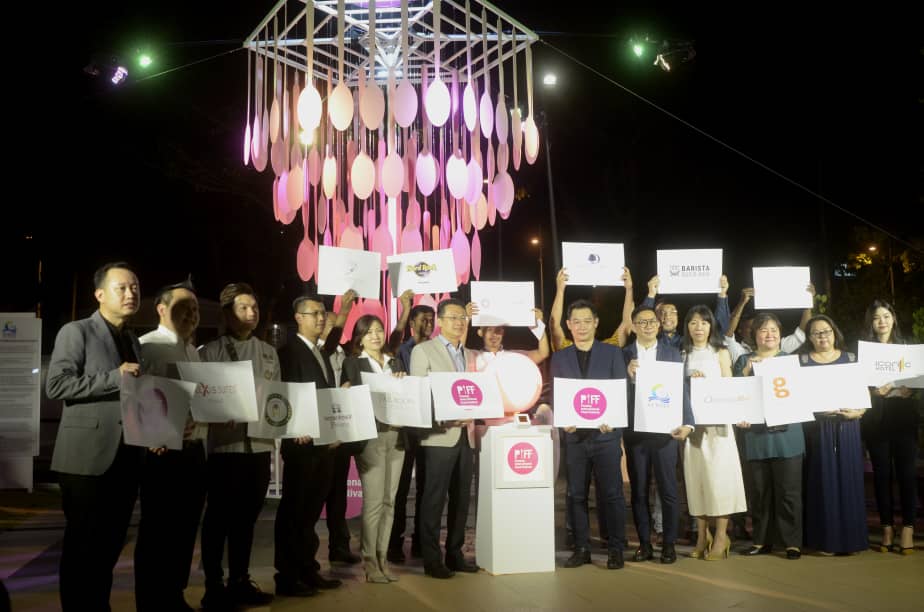 Olive Tree Hotel, which was established about four years ago, has been one of the strongest supporters of the Taste of Penang. Its marketing and communications manager Lim Hui Hui said the hotel has never missed the festival since it started three years ago.
"We are glad to support the festival and the state government's green initiative. We are featuring two food items – chicken rendang with man tou and begedil tofu. For those who come with own container or tiffin carrier, we give discounts," Lim said.
Also taking part are 92 Armenian, known for serving bird's nest desserts, Mango B, for serving all sorts of mango sugar-free treats such as smoothies, juices, ice-cream and tea, and Norm, for serving speciality coffee, speciality tea, cocktails as well as delicious signature waffles and tiramisu.
Among those present were TLM Event Sdn Bhd managing director Jack Wong and representatives of hotels, restaurants and cafes.
The Taste of Penang will be followed by a series of ticketed events from April 22 to 26 in various locations across the island and mainland.
The ticketed events consist of two food walks (Penang Mainland Food Walk and Penang Island Food Walk) and three dining experiences (Rhythmic Dining, Ferry Feasting and A Wine Retreat).
PIFF 2019 will culminate with the Penang Seafood Galore which will be held at Design Village Penang outlet mall in Batu Kawan. This will certainly be a delight for seafood lovers.
The events to be held are Mini Curry Festival (16th April, 5pm-10pm) at Hin Bus Depot, RM2 Mini Food Festival (17th April, 5pm-10pm) at Butterworth Art Walk, Gertak Sanggul Food Truck Rally (18th April, 5pm-10pm) at Gertak Sanggul Beach, Mini Barbeque Feast (19th April, 5pm-10pm) at Batu Ferringhi Golden Sands Beach Resort.
This will be followed by PIFF Latte Art Throwdown (20th April, 3pm-9pm) at Gurney Plaza, Taste of Penang (20th & 21st April, 5pm-11pm) at Jalan Kelawei, Penang Mainland Food Walk (22nd April, 8am-10am) at Raja Uda Apollo Market, Penang Island Food Walk (23rd April, 8am-10am) at Pulau Tikus Market, Rhythmic Dining (24th April, 7pm-9pm) at Rain Garden Restaurant, Ferry Feasting (25th April, 6pm-9pm), A Wine Retreat (26th April, 7pm-9pm) at Feringghi Grill and Penang Seafood Galore (27th & 28th April, 5pm-11pm) at Design Village Penang in Batu Kawan.
In conjunction with PIFF 2019, the organisers are also holding a PIFF photography contest with RM1,200, RM800 and RM500 going to the top three winners.
For details of PIFF, visit www.piff.com.my or follow their Facebook at Penang International Food Festival.
Story by K.H. Ong
Pix by Chan Kok Kuan