ESCAPE launched into yet another green and sustainable initiative when it agreed to partner Gsparx to build a photovoltaic facility for the supply renewable energy to its eco-tourism park in Teluk Bahang.
Chief Minister Chow Kon Yeow complimented Escape for the joint venture, making itself the first theme park in Asia to be carbon neutral.
"I am very pleased with the signing of the agreement taking place today between Escape and Gsparx. This means Escape is 100% reliant on renewable energy, putting itself once again in the international spotlight for its green efforts," Chow said in his speech before he and Finance Minister Lim Guan Eng jointly performed the official opening of the Escape Phase 3 Gravitiplay and the opening of the Guinness World Records longest tube water slide.
"Escape is not only a friend to the environment, but a perfect example which showcases that not all developments are destructive to nature.
"Escape has turned this former construction site of the Teluk Bahang dam into a world-class tourist attraction.
"This is one direction that the Penang government is heading in pushing for green and sustainable projects as part of our effort in creating a variety of quality tourism products across the island and mainland in line with Penang 2030 vision.
"We want to strike a good balance between development and conservation."
The agreement was signed by three parties, namely Sim Leisure Group founder and chief executive officer Sim Choo Kheng, Gsparx chairman Datuk Nor Azman and TNB chief retail office Megat Jalaludin Megat Hassan.
Chow added that Escape has been the leading tourist attraction in Penang and the No. 1 theme park in Malaysia for years.
He said visitors from across the globe come to Escape because of its exciting rides and games hosted in the midst of the beautiful natural environment.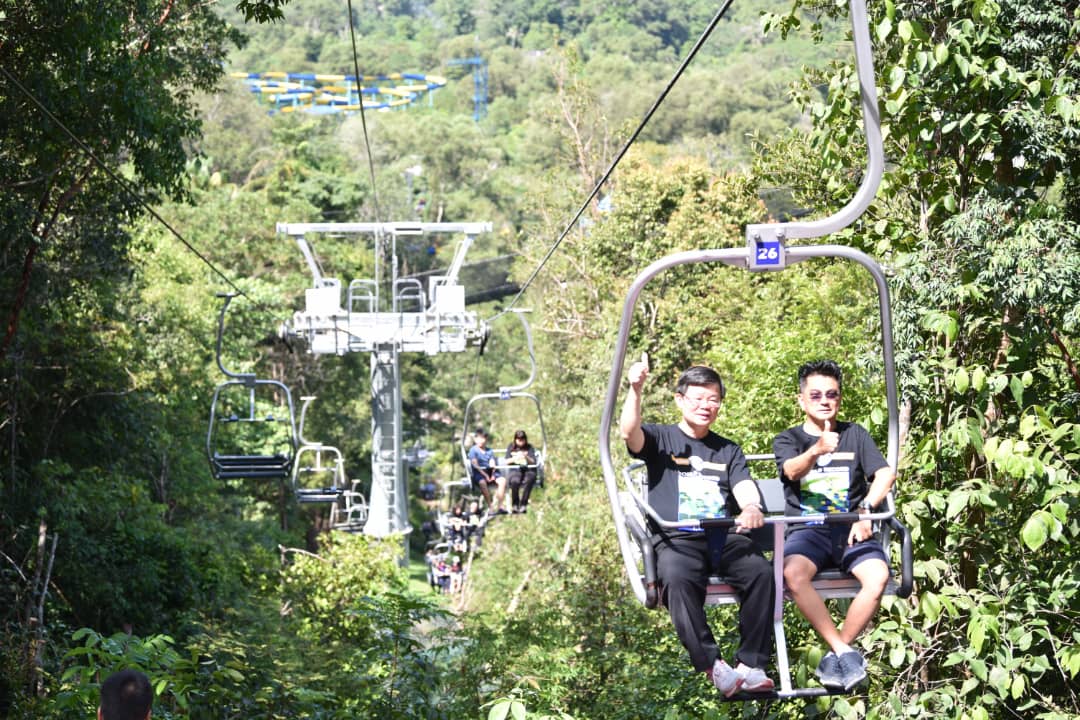 "According to statistics from the Penang Immigration Department, visitor arrivals hit a record high for the period from January to August 2019, increasing by 207.7% from 29,101 visitors to 89,535 over the same corresponding period last year.
"Many of these visitors came to visit Escape. A study conducted by USM recently showed that 10.9% of international and domestic tourists came to Penang to visit Escape. It's a remarkable statistic and testament for Escape," he said.
Chow said in line with the Experience Penang Year 2020 and the shared prosperity Vision 2030 of Malaysia, tourism, especially eco-tourism, has been pushed to the fore as part of the government's initiatives to boost the economy.
For Penang, he said the state needs to build infrastructure to support the rising number of visitors in order to address congestion concerns as Penang continues with its development as a world-class tourist destination and the crown jewel of Malaysian tourism.
Lim said the world longest tube water slide in Teluk Bahang would entice more tourists all over the world to Penang and Malaysia.
"Today is a very important milestone for Escape. We need more world class products to keep tourism growing," Lim said in his speech.
Sim said it would take about six months to a year to have the photovoltaic facility built, hence the park would be fully powered by solar energy next year.
He said as far as he knows, there are two theme parks in the United States that are carbon neutral.
Also present at the ceremony were state executive councillors Yeoh Soon Hin and Zairil Khir Johari, Teluk Bahang assemblyman Zolkifli Md Lazim, Chief Minister's special investment adviser Datuk Seri Lee Kah Choon, TNB Head (Customer Service Penang) Retail Division U. Ananda Rani, Senator Lim Hui Ying, Penang Hill Corporation general manager Datuk Cheok Lay Leng and Penang Convention and Exhibition Bureau CEO Ashwin Gunasekeran.
Story by K.H. Ong
Pix by Adleena Rahayu Ahmad Radzi & courtesy of Sim Leisure
Video by Chan Kok Kuan