THE state government, through Penang Youth Development Corporation (PYDC), has come out with a web design competition, which is open to all full-time college and university students in the state.
PYDC is collaborating with BigDomain, Rev Up Digital, Big Academy, Universiti Sains Malaysia (USM), DISTED College, Tunku Abdul Rahman University College (TARUC), Peninsula College, Rank Digital PLT and SEGi College Penang to hold the competition for students, aged 17 to 35.
State Youth and Sports Committee chairman Soon Lip Chee said registration for the competition would be open from Nov 1 to Nov 15. The submission is from Nov 1 to Nov 30.
He said it was held in line with the Penang Young Digital Talent programme goal, which is to develop 1,000 talents in two years, starting this year.
"This is an online competition. Website designing is one of the most demanding skills during Covid-19 pandemic.
"The purpose of this competition is to encourage the youths' creativity to enhance their skill set in website designing and make them employable.
"I am glad that our youths have attended this session proactively.
"This shows that our youths have high awareness of the importance of digital marketing in their future career.
"We strive to leverage the digital industry and transform this industry as a significant economic powerhouse for the state," he said in a virtual press conference today.
Soon added that web development has become part of the digital marketing for connecting the world.
"Web development is now one of the avenues employed by marketers to deepen their brand presence and boost bottom lines," he said.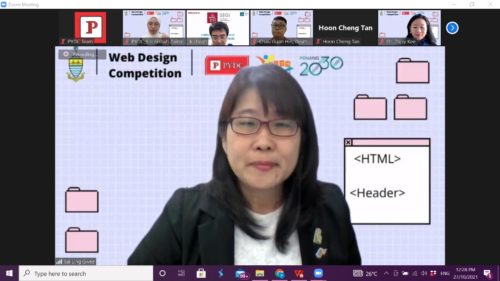 PYDC general manager Dr Gwee Sai Ling, who also took part, was honoured to be working together with the co-organisers to develop digital talents among youths.
"The purpose of this competition is to give participants a practical learning experience and is industrial based.
"We expect a total of 100 teams to take part in this competition. The announcement of the top 10 finalists will be on Dec 10 while the award ceremony will be held on Dec 18," she said.
Cash prizes worth RM4,800 are awaiting the participants. The champion will bag RM2,000, followed by first-runner up with RM1,600 and second-runner up with RM1,200.
Also present virtually were USM School of Management associate professor Dr Daisy Kee Mui Hung, Peninsula College Academic Services head Khor Seng Cheong, DISTED College School of Computing and Engineering head Chin Yit Kwong, (TARUC) Faculty of Computing and Information Technology Computer Science Society programme leader Desmund Chau Guan Hin, SEGi College Penang principal Cheah Teong Keat, USM Computer Science Society advisor associate professor Dr Nurul Hashimah, BigDomain Business Development director Abyy Toh and Rev Up Digital founder Wind Tan.
Story by Edmund Lee
Pix courtesy of PYDC's office