CREATIVITY shone forth for winners of the drawing, colouring and photo-taking contests, which were organised by Buletin Mutiara just before Covid-19 pandemic.
Three contests were held, namely Mutiara Foodie (whereby contestants were required to post a picture that resembles authentic local delights on Instagram with #mutiarafoodie), 'Bakat Si Cilik – Mewarna' and 'Penang South Islands – ilustrasi anda'.
Chiang Mun Qi, 23, a student who emerged as the first prize winner under Mutiara Foodie category, said her family inspired her during a lunch outing in Butterworth to capture a 'moment' picture in the form of plates of mouthwatering prawn mee. The victory won her RM500.
"I have always loved prawn mee and it has become a family tradition to enjoy this meal together at least twice a week.
"During our recent outing to a famous prawn mee stall in Butterworth, I was inspired to snap a photo of plates of delicious prawn mee with one of us reaching out to the bowl to represent unity," said Mun Qi during a telephone interview with Buletin Mutiara.
Food operator Jamilah Yusoff, 51, was delighted to be adjudged the second place winner after submitting a photograph of a plate of authentic 'pulut kuning with rendang ayam' and a signature Malaysian drink 'Teh Tarik' in the background. She bagged RM300.
"I did not expect to win second place as my only intention was to promote local Malaysian food through the online platform that I see many people these days use it for promotional purposes," she said.
Under the 'Bakat Si Cilik – Mewarna' category, Teoh Zieo Sze, eight, deservingly won first place with her fine skills. She won the top prize of RM250.
"I wanted to make my work as colourful as possible, and by doing so, I additionally drew the famous Kek Lok Si Temple, parachutes and hot air balloons on the colouring paper," Zieo Sze explained.
In the same category, Mohamad Azmirul, five, took second place while Sefra Saffiya Muzil, 10, secured third place. Mohamad Azmirul and Sefra Saffiya won RM150 and RM100 respectively.
As for the 'Penang South Islands – ilustrasi anda' category, Amira Shaari, 24, emerged as the sole winner and bagged RM250.
Amira drew some monumental buildings and tourist spots in Penang, which included the Penang Bridge, Komtar, Fort Cornwallis, ESCAPE Theme Park and Penang Street Art.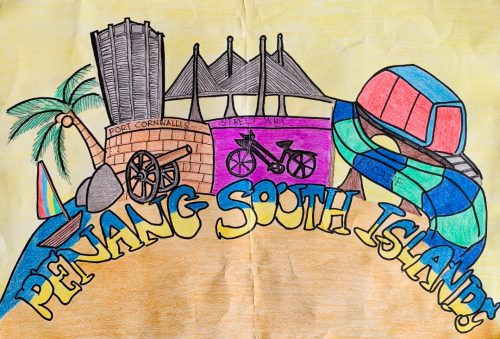 "I developed this love for art since the age of seven and I can't believe that my drawing skills have improved so much.
"I would like to thank Buletin Mutiara for organising such a contest which enables many young ones to express their inner talent on a notable ground," Amira said.
Story by Kevin Vimal