AS the Sijil Pelajaran Malaysia (SPM) results for 2020 will be out on June 10 (Thursday), many students are now keeping their fingers crossed.
It was a tumultuous year for them as the Covid-19 pandemic has turned a lot of things upside down, including disruption to their studies and preparation for the Form Five examination that would in many ways impact their future.
They were supposed to sit for the exam in November-December 2020 but finally did so in February-March this year due to postponements.
Several of the students, when contacted by Buletin Mutiara, expressed their anxiety as the D-Day is just two days away. In addition, a vastly experienced tuition teacher too shared his views and how he quickly adapted to online teaching to guide his students.
Below are their views:
Krisada Ooi Shen Yang (student)
"I am feeling anxious and excited to finally know our results soon and at the same time, I am feeling a great sense of relief. I feel a great burden being lifted off my shoulders once and for all as I come to the end of my secondary education.
"My ultimate aim for my SPM examination is to achieve 10A plus. I am not putting any pressure on myself. I know that I have put in all of my blood, sweat and tears into the preparation for the examination.
"I would definitely love to see all my hard work pay off and my goal come to fruition. Mental preparation is very important too.
"What kept me going was also the help I got from some amazing tuition teachers like Puan Oh Lee Eng (BM), Mr Boo Soon Yew (Physics and Chemistry), Dr Arunasala Pandy (Physics), Puan Syamala (Sejarah) and Mr Baskaran (Chemistry) via online lessons.
"Also a shout out to all my Penang Free School teachers like Ms Linda Toh, Mr David Ch'ng, Ms Ling Jia Yi, Mrs Jumaiyah, Ms Cheong Lai Fong, Ms Low Kheow Yu, Mr Nasrullah and Cikgu Wan Norashikin for their dedication.
"I am also thankful to my parents (Ooi Chong Sun and Savanee Sararaks), and older sister (Rucira) and older brother (Setthasorn) for their tremendous support.
"Actually, I have already started my pre-U education and I am currently doing A-Levels at Sunway College."
Nur Elisa Alias (student)
"I am already feeling the pressure. My school did not complete most of the syllabus last year.
"Yes, we did have online classes but the teachers did not manage to cover all subjects.
"Most of the time, my teachers just discussed past SPM papers with us during the online learning and all this made me even more anxious.
"However, I did study on my own. But still, I think I did not have adequate preparation and the 2020 SPM exam was tough for me.
"Hopefully, I can score at least 5As to make it easier for me to enter into the public institutions of higher learning (IPTA)."
Juanita Sharon John Sandana Dass (student)
"I have mixed feelings, nervous and excited at the same time. The results are important when it comes to applying for certain courses and scholarships.
"My expectation is 5As and I aim to pursue business studies in my tertiary education.
"I must commend all my batch of teachers from Convent Light Street for being very patient and dedicated, whether teaching us via online or face to face.
"After my SPM exam, I took the opportunity to take up driving lessons and pick up a few hobbies."
Ahbinesh Parthasarthy (student)
"Right now, I am feeling a bit anxious. This is the most delayed SPM exam ever because of the movement control order.
"Because of the pandemic, the mid-year school exam (SMK Seafield in Subang Jaya) was cancelled and the trial exam was also cancelled after a few subjects were conducted.
"To prepare myself for the SPM exam, I took tuition for a few subjects, such as Additional Mathematics, Sejarah (History) and Accounts. I expect good result to enter a public university.
"I would like to choose a course in human resources. This is because I like to deal with people and also manage staff. I learned a few things when I was working as a service crew member at an event."
Teoh Xin Yee (student)
"I am a little worried now that my SPM results are going to come out soon. I did my best and I hope the results will be better than what I am expecting.
"I don't have big problems with online learning. But still, I prefer physical classes.
"Hospitality management is my interest, even though Covid-19 has hit the tourism industry the hardest. So, I may take up this course.
"For five to six months now, I have been working as a barista/waitress at Kafka Cafe at Jalan Kelawai.  And to earn extra money for my college fees I am now also selling brown sugar online."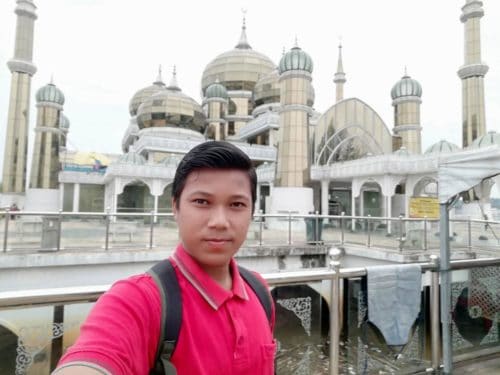 Muhamad Syahmi Amri (student)
"Honestly, I don't know how to describe my feelings right now. I'm very anxious and nervous at the same time.
"It's not that I'm not confident enough but I just think that I'm not doing enough.
"My school in Kepala Batas did organise online classes for us (SPM students) last year when the school was closed due to the Covid-19 situation.
"Our teachers also worked hard to prepare us.
"But, I personally feel that physical classes are much better instead of online classes where I can interact more with my teachers and ask them things that I don't understand.
"However, I believe I have done my best during the SPM examination. If it's not for the Covid-19 situation, I believe I could have done better.
"Hopefully, I can pass the exam with flying colours. If that does not happen, I hope my parents will still support me and not give up on me yet."
Nur Masturah Nordin (student)
"For me, I'm not really worried about my results. I have done my best and I am fully prepared to accept whatever the outcome.
"My parents have also always supported me from the very start.
"They hired a tutor for my private tuition online class during the schools closure last year due to the Covid-19 pandemic. They wanted to better equip me for the SPM examination.
"Moreover, my school teachers also were very helpful and supportive during the online learning. They were always helping me in the subjects that I'm not really good at such as biology and chemistry.
"So, I believe that I'm mentally prepared to accept my SPM exam result this Thursday. Hopefully, I can score at least 7As."
Khairina Khaldun Ahmad (student)
"I have been working part-time as a tearista at Tealive outlet in 1st Avenue Mall for about two months after my SPM exam. It's challenging at first but now, I am used to it.
"I hope to score 4 or 5 As, a few Bs and a pass in Add Math. I hope to pursue a foundation course in psychology.
"What I encountered in online learning during the MCO was not just connectivity problems. You cannot ask a lot of questions, especially in Mathematics. It's can be disturbing to the class. Hence, I prefer face-to-face learning.
"On top of that, studying at home can also be distracting when you have your handphone with you. In my school (Convent Light Street), we are not allowed to bring our mobile phones into the class. They will be confiscated."
Boo Soon Yew (KDU College lecturer in 1992-93, Form 4 & 5 Pure Science tuition teacher from 1994 until now)
"Last year, I totally stopped my classes for one month during the first MCO. In mid-April 2020, I started to do Zoom.
"Then, in August during the RMCO, we could resume physical classes, though I only started back in September. By early November, the classes were shut again. This was very disruptive.
"Even when we do online teaching, we may encounter connection problems when our videos are switched on. Hence I did not make it compulsory for my students to switch on their videos. Yet, if the students keep their videos off, the drawback is that you cannot monitor them.
"Fortunately, this SPM 2020 cohort had gone through face-to-face lessons for one year when they were in Form 4.
"While the online learning was something new and has greatly affected the students, I feel some students were determined to do well. They had extra months like January and February to revise their lessons.
"Speaking for myself, I tried to motivate my students by preparing materials, including colour photos, sourced from Internet for the tuition lessons."
Story by Riadz Akmal and K.H. Ong
Pix by Buletin Mutiara and courtesy of interviewees