CHIEF Minister Chow Kon Yeow took the opportunity to share more about the Penang2030 vision with over 300 participants from 78 Penang youth non-governmental organisations during a Penang Youth Dialogue at the Auto City Concept Hall in Juru today.
He said the vision, which he launched four years ago for a Family-Focused Green and Smart State that Inspires the Nation is now in its second phase in the 12-year programme.
He said the second phase, known as Accelerating Penang2030, covers the Penang2030 vision from 2022 to 2025 and focuses on community-building initiatives, industry engagement initiatives and placemaking initiatives.
"Penang's economy is on track as it recovers from the Covid-19 pandemic health crisis.
"The state recorded its highest investment from 2019 to 2021 with a total of RM107.2 billion and created 51,000 quality jobs.
"We want to continue building our strength in the E&E sector, foster new digital investments, and boost the economy in Penang," Chow said in his speech.
The Penang Youth Development Corporation (PYDC) and the Penang Chinese Chamber of Commerce Young Entrepreneur Section (PCCC YES) jointly organised the dialogue.
Elaborating, Chow said the community-building initiatives are aimed at engaging and empowering the population as a whole and post-pandemic recovery with programmes like Safe Family, Penang State Family Day and LovePENANG Campaign. The campaign is a call to action, to come together, rebuild and move forward for a brighter Penang.
For industry engagement initiatives, he said the focus is on talent development and the future of the E&E semiconductor industry and private digital district in Penang.
Placemaking initiatives in the state, Chow explained, are being identified as focal points for positive efforts to develop Penang such as CD2 (Creative Digital District), the upgrade of the Esplanade and Penang's Waterfront Marine Sanctuary Middle Bank.
He also spoke of the importance of modernising the agricultural and aquaculture industries, encouraging TVET (technical and vocational education and training) courses, complying with ESG (environmental, social and governance), especially for small-medium industry, reducing carbon emissions, creating green building and planting of trees.
Chow said today's dialogue was of great significance as it promoted a two-way exchange between the state government and the youths to discuss the issues facing the youth today.
Overall, the Penang2030 vision has four themes with 16 strategic initiatives and several catalytic projects.
The four themes are: Theme A – Increase Liveability to enhance the quality of life; Theme B – Upgrade the Economy to raise household incomes; Theme C – Empower People to strengthen civic participation and Theme D – Invest in the Built Environment to improve resilience.
Chow added that the Penang2030 Dashboard, which was launched in June 2022, is accessible to the public for tracking Penang2030's progress.
State executive councillor Soon Lip Chee, who is in charge of Youth and Sports, said today's dialogue provided the chance for them to meet the youths who are bold to voice out their views for the development of the state and country.
"The state government always supports the initiatives and efforts taken by the youth NGOs to empower them.
"We also always welcome views and suggestions that can help in the development of young people and are ready to cooperate with youth organisations.
"They are the future of the country. For this reason, by nurturing, training and empowering them can we have stronger leaders to meet various challenges," Soon said.
PYDC general manager Dr Gwee Sai Ling said they have been working with various youth NGOs, clubs, and associations to help develop the potential and talents of youth in the state.
"We understand what a youth needs, in terms of economic, social and personal development. We want to equip them so that they will be able to face the challenges of the future.
"This is the desire of PYDC in producing competitive and competent youth who can bring our country's progress to a higher level.
"So, we invite the youths to collaborate with us. Alone, we can go fast, but together, we can go far," Dr Gwee said.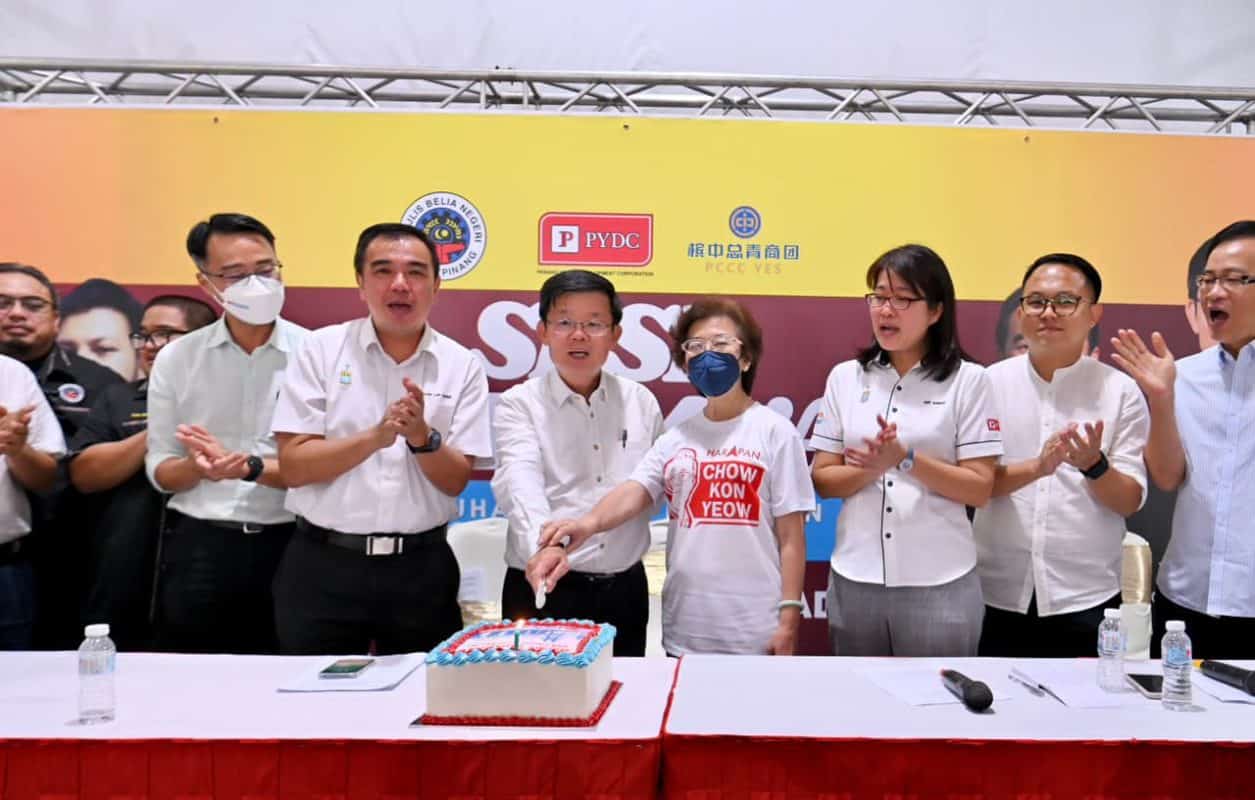 At the dialogue, several representatives asked questions and exchanged views. Some of the questions were answered by Chow, and others were answered by Soon, Dr Gwee, Penang State Youth Council deputy president Vincent Tan Chor Lim and PCCC YES chairman Leon Lee.
Among those who attended the dialogue were Chow's wife Tan Lee Kean, Machang Bubok assemblyman Lee Khai Loon, Pengkalan Kota assemblyman Daniel Gooi and Penang Scouts Association commissioner Datuk Zulkafli Kamaruddin.
After the dialogue, the organisers brought out a birthday cake and presented it to Chow, who turns 64 tomorrow.
Story by K.H. Ong
Pix by Noor Siti Nabilah Noorazis
Video by Adleena Rahayu Ahmad Radzi