AN aerial water-bombing strategy is currently being carried out to fight against the Pulau Burung landfill fire in Nibong Tebal.
Fire and Rescue Department Perai zone chief Nor Hairulddin Noraidin said the operation involves two helicopters from the Subang and Penang Fire and Rescue Services Department (JPBM) as well as eight JPBM crew members.
"The process to extinguish the fire will focus on the hotspots based on the thermal images provided by the Department of Environment (DoE).
"Each water bomb can provide around 1,600 litres.
"The operation will continue until we can see improvement in the landfill area here.
"I also would like to advise any agency or individual to not fly any drone during the operation," Nor Hairulddin told Buletin Mutiara during the operation today.
Also present was Jawi assemblyman Jason H'ng Mooi Lye.
H'ng also thanked JPBM for their relentless efforts to extinguish the Pulau Burung landfill fire.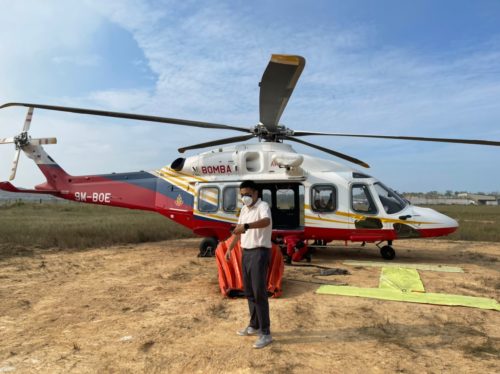 "I also hope that the aerial water-bombing technique used by the JPBM today will help to extinguish the landfill fire.
Earlier, state Welfare and Environment Committee chairman Phee Boon Poh said a total of 10 schools located within a 10km radius of the Pulau Burung landfill were ordered to close from today (Jan 19) to Friday (Jan 21) following a fire at the landfill that broke out since Jan 12.
The schools affected by the closure are SJK (T) Ladang Byram, SJK (C) Pai Teik, SMK Seri Nibong, SJK (T) Nibong Tebal, SK Seri Sentosa, SK Keledang Jaya, SJK (T) Ladang Changkat, SMK Methodist, SK Methodist and SK Nibong Tebal.
It was reported that the fire covered an area of 6.5ha out of a total of 16.2ha of the landfill. So far, no lives have been lost.
Story by Riadz Akmal