A MUSEUM is a great source of knowledge. Learning in museums can be fun!
Besides the typical museum, Penang offers a variety of interactive museums which are family-friendly and most of them are located near the George Town Unesco World Heritage Site.
Check them out!
Wonderfood Museum Penang
There is always more to food than meets the palate when it comes to having a great meal in Penang.
Imagine that you could take a photo of a giant piece of roti canai after downing one at your favourite Mamak stall!
At Wonderfood Museum Penang, size does matter! It is the world's first food-themed fantasy exhibition aimed at showcasing an array of ultra-realistic food replicas.
Besides offering visitors a chance to take Instagram-able photos, the museum also provides a fun learning experience. Most of its exhibits create awareness about the wonders and the negative sides of food.
Its museum manager Alan Tan welcomed news about the reopening of Malaysia's international borders on April 1.
"Our museum received an average of over 200 visitors per day before Covid-19 hit our country. Now, we are only receiving an average of below 100 visitors per day.
"We hope that things will get back to normal soon with the reopening of the country's international borders.
"We are observing all the standard operating procedures (SOPs) to ensure the safety of our visitors. Besides the need to scan the MySejahtera QR code at the entrance, visitors will also have to show proof of being fully vaccinated against Covid-19 before entering the museum.
"We also have staff who will be ensuring that visitors observe proper physical distancing," he told Buletin Mutiara. He added that only 60 visitors were permitted to be in the museum at any one time.
Among the exciting sections of the museum is the 'vault' featuring The World's Most Expensive Food. Visitors can take a good look at the food replicas – all in this 'lavish' room.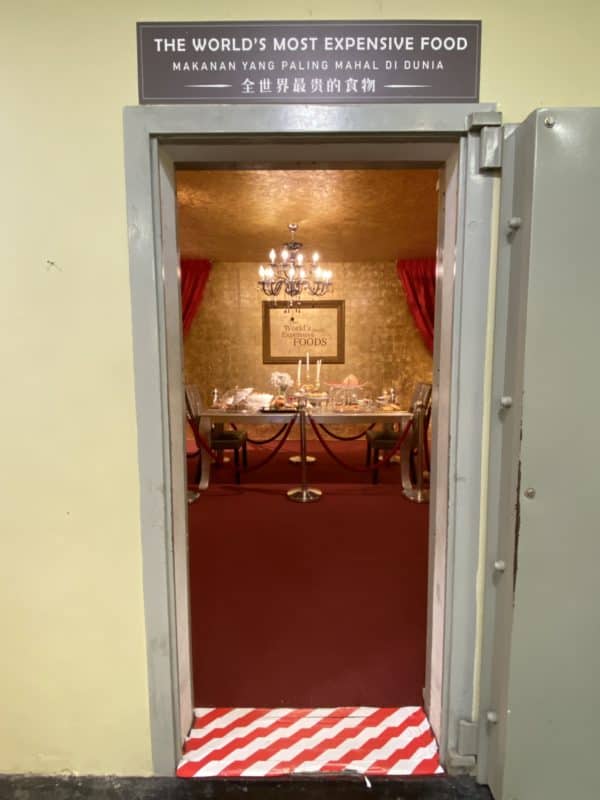 Call 04-2519095, check out the Wonderfood Museum Penang Facebook page or visit the museum in Beach Street for more details.
Penang 3D Trick Art Museum
Pose for a photo with the cuddly pandas, go on an adventure with the characters from Journey to the West, or be in the E.T.'s famous classic flying bicycle scene. One can experience all these and more at the first Penang Trick Art Museum in George Town.
There are about 40 3D trick arts in the museum for visitors to interact with.
Penang Trick Art Museum business development manager Tonny Chuah said the museum was cautiously excited over the reopening of the country's international borders.
He said that usually, the museum would receive more visitors during the year-end school holidays.
"While we welcome the good news (the reopening of Malaysia's international borders), we are also hoping that the Government would make better the standard operating procedures (SOPs) to control the rise of new Covid-19 cases.
"We have staff who will ensure that our visitors observe the SOPs while enjoying themselves," he said in an interview.
He estimated the museum's visitor ratio of 70:30 between local and foreign visitors.
Among the many exciting 3D trick arts include riding a rickshaw while taking in the scenic old town, try not to be eaten by a great white shark, stealing the limelight as you walk the red carpet, and saving a friend from being swallowed by a hungry anaconda.
Visitors can call 04-2631628 or visit the museum in Lebuh Penang for more details.
Upside Down Museum Penang
Ever wonder how cool your photo will be if it shows that you could walk on walls or the ceiling?
Wonder no more as the Upside Down Museum in George Town offers its visitors an unforgettable experience to capture unusual photos and videos.
Located in Kimberley Street, this one-of-a-kind museum allows visitors to see things from a different perspective!
Upside Down Museum manager Jun Ooi said there were about 30 attractions in the museum.
"The museum has rooms that allow our customers to pose for photos using their imagination. We provide photo-taking and video-taking services to our visitors.
"Our staff are present at each section to help the visitors take their photos or videos so they can experience the museum to the fullest.
"The visitors must observe the SOPs so that everyone can enjoy the museum safely," she told Buletin Mutiara.
Ooi said the museum, as well as other interactive museums in Penang, was impacted by the various movement control orders (MCOs).
"Despite the launching of the Penang-Singapore VTL-Air (Vaccinated Travel Lane by air), we have not seen many visitors from Singapore to our museum.
"Usually, we receive more visitors on weekends and public holidays," she added.
Visitors can check out the museum's Facebook page, call 04-2642660, or visit Upside Down Museum Penang in Kimberley Street for more details.
Ghost Museum Penang
Are you a fan of horror movies? What if you could 'meet' the different types of ghost characters all in one location?
Visit the Ghost Museum Penang in Lebuh Melayu to satisfy your cravings for horror!
Museum supervisor Nurilyani Ariffin said the museum housed 30 types of ghost characters from 15 countries to provide visitors with the ultimate scary experience.
Among the countries were Malaysia, China, Egypt, and Japan.
"However, it is important to note that this is a museum and there are no jump scares.
"Our visitors – young or old, local, or foreign – can definitely identify some of the 'ghosts' we have in the museum," she said in an interview.
Nurilyani said there is a brief description at each attraction to enable visitors to learn more about the 'scene'. The museum has also included short paragraphs of moral lessons below the description.
"We look forward to receiving the foreign tourists. This is the first ghost museum in Malaysia, and we have a branch in Melaka.
"We have received reservations from foreign visitors who are interested to visit our museum.
"Most visitors have a good scare at the Malaysia section and the 'Zombie Attack' section," she said.
Visitors can call 04-2612352 or visit the museum's Facebook page for more details.
For those who have visited the interactive museums in George Town, Penang, which is your favourite?
Story by Christopher Tan