ALTHOUGH the SK Batu Kawan boria team just started to be active last year, it has already recorded some remarkable achievements.
This is proven when the school managed to get third place in the national-level boria competition that was held during the Penang International Paddy Festival (Pesta Padi Pulau Pinang) at Kampung Terus in Penanti last year.
SK Batu Kawan teachers Anita Mohd Arshad and Kamsiah Mohd Isa, who were instrumental in coaching the team, could not hide their delight.
"We did not expect to be in the top three as the competition on July 22 last year was also participated by secondary schools as well.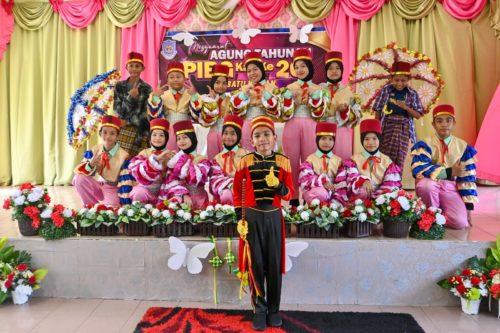 "Moreover, it was a last-minute preparation for us. We only had about a week to find interested pupils to form a team, prepare our sketch, and create a new song and dance choreography when we decided to revive the school boria team.
"We also watched a lot of boria performances on YouTube to get some inspiration for our dance choreography. After that, we just adapted them to suit our kids.
"We are very proud of the result and boria performance shown by our team. Such achievement gave us the motivation to continue with the boria team at SK Batu Kawan," Anita told Buletin Mutiara during an interview session at SK Batu Kawan in Bukit Tambun recently.
Also present were Bukit Tambun assemblyman Goh Choon Aik and SK Batu Kawan headmistress Masitah Mohd Yulan.
Anita said since getting third place in the national-level boria competition, the school boria team has received invitations from various parties to perform.
"We have continued to be active since then. It is a huge confidence boost for me and my partner, Kamsiah, and also for all the pupils in the boria team.
"After all, boria is unique and has always been synonymous with Penang and we want to continue encouraging the younger generation to take part.
"We also want the younger generation to appreciate the cultural and heritage significance of boria and preserve its identity as part of our tradition," she said.
Anita explained that a boria show usually starts with a sketch before dancers also join in the performance and each performance has a message to convey.
"The performance is also led by a tukang karang (lead singer).
"Each performance will also have its own theme such as boria's development, unity among races, Merdeka and even fantasy," she said.
Anita is now looking forward to a district-level boria competition on June 16 in which the SK Batu Kawan boria team will be participating.
"The competition is organised by the Dewan Bahasa dan Pustaka (DBP).
"For district-level, SK Batu Kawan boria team will consist of 14 participants and two reserves. The theme for the competition is Malaysia Madani.
"So far, the preparation has been great. The boria training session is conducted two or three times per week during the school session but not during the teaching of core subjects classes as we do not want to disrupt their academic programmes," said Anita.
When asked about the plan after the district-level competition, Anita said she and her partner would continue to manage the school boria team and recruit some new talents.
"We will also continue to accept any invitation for our boria team," she said.
Meanwhile, Goh said he is happy to see such an achievement achieved by the SK Batu Kawan.
"During the Bukit Tambun and Batu Kawan Hari Raya Aidilfitri open house recently, I also invited the SK Batu Kawan boria team to perform on the stage and in front of the public.
"This is important to give them some exposure and at the same time to instil some confidence among the pupils in the boria team.
"So, when there is such exposure, it will be easier also for other parties such as the private sector and community organisations to invite the school to perform at their event.
"This, in return, will generate some income also for the school to buy some boria equipment and clothes, and thus improve their show quality.
"Thus, I would like to urge the private sector and community organisations to invite the SK Batu Kawan boria team for any functions that they have. After all, it is better to support local artists than outsiders.
"I hope the SK Batu Kawan boria team will continue to go further and obtain even more achievements," said Goh.
Story by Riadz Akmal
Pix by Noor Siti Nabilah Noorazis