MAYOR K. Gurunathan, 64, from Kapiti, a district north of Wellington, New Zealand, was back in Penang recently for a short holiday.
Buletin Mutiara's Chan Lilian and photographer Alissala Thian interviewed Guru and had a chance to meet his lovely wife, Claire, and children Jessie (33), Ravi (30) and Ari (19).
Q: Are you a Xaverian? I read that Xaverians were proud when we read about you becoming a mayor in New Zealand.
A: I was at St. Xavier's Institution till Form 3. At that time, it was the first year they imposed passing Bahasa Malaysia to get the LCE cert. I did not pass and went to Sek. Al Mashoor for a while but they allowed those students who did extremely well in other subjects to re-take the exam. I passed LCE and a hereafter, I went to Jelutong Secondary school. When I was at Jelutong, the students immediately recognised us students from Catholic school because we suddenly turned very radical (compared to the strict SXI) and we were hard to control. I was in Methodist Boys School for Form 6.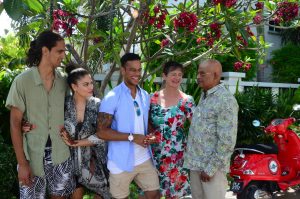 Q: How did you end up in New Zealand? Is it because of your beautiful wife?
A: After my Form Six, I applied to local universities but was unable to get in. So I applied to a university abroad and New Zealand was the cheapest. I left in 1974, met Claire, had my daughter. I returned in 1983 after my Master Degree. I worked for National Echo and then, they brought the Rocket (DAP publication) to Penang.
I studied political science. One must have the conviction to fight. I had that streak in school and I carried it with me when I was in New Zealand. I was involved in the Maori radical movement to fight while my wife is very calm, very cool and a direct opposite of me. That's where I met her, during our activist days.
Q: Back then, when you were involved in politics, did it occur to you that Penang will be taken over by DAP one day?
A: Once I left Penang in 1995, I did not get involved much in local politics. However, I was very happy that finally DAP won after repeated battles. It was something we visualised. When you started a thing, and then DAP came into Penang and you were part of it, you see those older generations and you take your hats off to them. If you are part of the struggle, and being part of the struggle, it is different.
Q: Looking from New Zealand, how do you see Penang progressing under the new government?
A: If you have been fighting for a cause all along, now the game is different. You have a chance to create the type of changes that would work. However, it is hard. Easy to talk and criticise. But to establish the platform, and in Penang where the Federal funding would be a threat to them, it is hard. You also have very high expectations from your electorate, it is a struggle.
However, I see tremendous improvement. I like the slogan "Cleaner, Greener, Healthier and Safer Penang". It says it is a work in progress. The slogan is not saying we have achieved, but it is a journey for Penang to be better.
Q: Do you love Penang?
A: Let me give you an example. When I came back I had char koay teow, then I had rojak. And then I said, "Lord, if you want to take me away tomorrow, so be it."
Penang runs on its stomach. It is a well-known tourist spot, a food mecca, a fusion of cultures.
Q: Some advice you have for Penang?
A: If you love Penang, you have the right to be critical of Penang. I told Chow (exco member Chow Kon Yeow), Look, we have a situation that is highly urbanised. I am 'amazed' with the traffic congestion caused by the high density and the roads capacity is limited. I understand that constraint, as Penang is without proper funding from the federal government. However, they have to see how sustainable the development is as we do not want to destroy the goose that lays the golden egg.
For example, the Penang Botanical Gardens is a sculpture of neglect. That garden is heritage, a place that needs to have incredible amount of funding, research facility, twinning with universities in biological landscaping for example. That should be a research area. The community needs green lungs. Labour is still cheap, and the place needs intellectual input and money to run and it will be a fantastic place.
However, I must add that the heritage site is fantastic with the old buildings. I love Penang, I love the old buildings.
Q: As a mayor, what advice do you have for our local councils? Just this morning (Feb 17), our council secretary noticed the rubbish strewn along Karpal Singh Drive and he was talking about installing CCTVs and imposing fines.
A: Although the streets are clean, the rivers have become drains. It is critical. For a lot of people, enforcement of regulations is important. Hey, I want to make an invitation to the secretary to join me to canoe down the rivers of Air Itam and Sungai Pinang and see. When we slow things down, you will see the river as a living organism. If you want to take a look at civilisation, you look at the rivers. I remember going to the Air Itam River to catch fighting fish when I was young. Now it is full of plastic containers. Education is slow, enforcement is also part of education.
Q: Tell me, mayor, do you face a lot of NGO protests like us here in Penang where people hug trees, people turning simple demolition of illegal structures into racial matters?
A: In New Zealand, I am part of the Hearing Commission on Resource Management. We need to get consent, when we make an application for development. We have a highly trained commission and the impact on the environment is key.
On NGOs, I am surprised the person is still around to hug trees. Behaviour is hard to break. On waste segregation, we have to have tough sense. Initially, we may have no choice. Enforcement has to be done.
Q: As a parting note, mayor, do you think you would have the equal opportunity to be what you are today if you had stayed in the country?
A: Think of it this way…we are not pushing for individual rights or consumption but we are individuals who contribute to the common good. When they are able to progress, they have the capacity to contribute fully, a value that over rides racial differences.
This is different from meritocracy. When people's minds have been polluted with racial politics, it is very difficult to govern. I don't envy the people in position but I have full confidence they can do a good job.