THE Penang Football Club (Penang FC) is now calling for a request for proposal (RFP) to find a new sponsor for its football jersey and training kit for the new season in 2023.
Penang FC general manager Jeffrey Chew encouraged all interested companies to submit their proposals before or on Sept 30 this year.
"The RFP is important because it not only covers the senior squad but also those playing in Reserve League, President League (U20), Youth League (U18) and teams Under 17.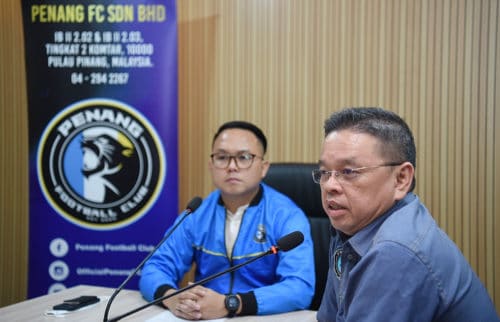 "Interested parties can submit their proposals to the Penang FC office at Level 2 in Komtar or send them via email to [email protected].
"All proposals received will be given due consideration by a selection committee consisting of the Penang FC board of directors.
"And companies that are shortlisted will be invited to present their proposals to all Penang FC board of directors before a final decision is made.
"The results of this selection will be made on or before Oct 30 and the official results of the selection will be announced through all Penang FC official media," Chew told a press conference in Komtar today.
Also present was Pengkalan Kota assemblyman Daniel Gooi Zi Sen, who is also one of the Penang FC board of directors.
On a separate matter, when asked about Penang FC's poor performance this season in the Super League, Gooi said Penang FC management is well aware of the issue.
"We understand the criticism and frustration by the Penang FC fans because of the team's poor performance in the league. And of course, we have a plan to overcome this issue.
"We have to admit that in terms of the technical aspect, there are a few key areas that we need to improve. But in terms of the management, we are all fully committed to bringing Penang FC to a greater height.
"Rest assured, Penang FC management is doing our best to solve this issue and we will make an official announcement about this matter as soon as possible," he said.
Penang FC currently sits at the bottom of the table in the Super League this season after managing to win just one game from 18 matches so far.
Story by Riadz Akmal
Pix by Darwina Mohd Daud