THE rainfall for the past few days has helped increase the effective capacity of the dams in Penang following a prolonged dry spell.
According to the Penang Water Supply Corporation (PBAPP)'s website, the water level at the Air Itam Dam as of today is at 44.4%.
On May 19, the Air Itam Dam recorded an effective capacity of 41.5 %.
Meanwhile, the water level at Teluk Bahang Dam has also risen to 47.0% as of this afternoon compared to 45.7% on May 19.
The Mengkuang Dam has recorded an effective capacity of 88.3% as of today.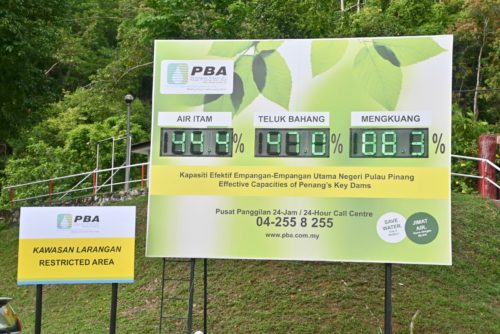 Because of the water situation in the state, Chief Minister Chow Kon Yeow has urged Penang consumers to reduce domestic water consumption by 20% daily.
This, he said, would result in a water saving of 106.8 million litres per day (MLD) and go a long way towards ensuring water supply sufficiency in Penang until the expected heavy rainfall in September.
Meanwhile, PBAPP chief executive officer K. Pathmanathan said yesterday that PBAPP had reduced its daily drawdown from the Air Itam Dam from 22 MLD to 15 MLD.
He added that the daily drawdown might be lowered further next month to help sustain the dam's remaining raw water reserve.
He said PBAPP has been pumping more water from the Sungai Dua Water Treatment Plant in Seberang Perai to supply to peripheral areas in Air Itam.
Although, the water level has increased at the Penang water dams, let us all continue to use water wisely to ensure the sustainability of the water supply.
Story by Tanushalini Moroter
Pix by Law Suun Ting