Football Fantasia 2020 is now open for trials in Penang!
The event, which is initiated by TH Global Football Camp, aims to give a lifetime opportunity for talented young footballers to experience a professional football enhancement programme for free at major clubs in Europe and America.
The clubs include Real Madrid (Spain), SL Benfica (Portugal), Royal Dutch Football Association (KNVB) in Netherlands and Los Angeles (LA) Galaxy from USA.
TH Global Football Camp founder Datuk Indera Tunku Harunnarasheed Putra said the programme served as a platform for young passionate footballers to train and play football at the highest level with highly qualified coaches from the biggest football clubs in the world.
"Through this programme, our young players will have the opportunity of a lifetime to live their dream of training at their favourite football club and having friendly matches with the club's best.
"Apart from that, they will also be brought for stadium and city tours as well as meeting their football idols and watching them play in match 'Live', all in one package.
"This experience would definitely reduce the gap between Asia and the rest of the world.
"Plus, these kids will be trained, certified and receive mementos recognised for being a part of this ultimate footballing experience," Tunku Harunnarasheed told a press conference at City Stadium in George Town today.
Also present were state Youth and Sports Committee chairman Soon Lip Chee, Football Association of Penang (FAP) president Dr Amar Pritpal Abdullah and TH Global Football Camp chairman Toh Puan Noor Suzanna Abdullah.
According to Tunku Harunnarasheed, TH Global Football Camp has organised the Football Fantasia 2020 (football trials) since December last year in various states in the country, such as Terengganu, Kedah, Kuala Lumpur, Melaka, Johor and Selangor.
"Today, I am very happy to announce that the football trial event will be held at City Stadium, Penang.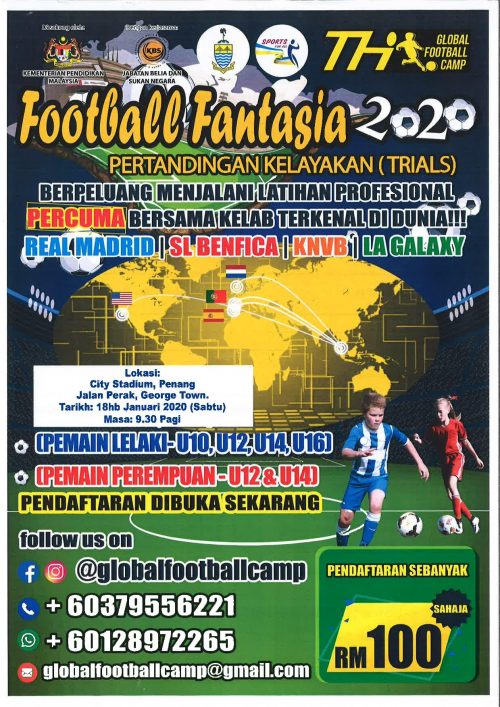 "Thus, this is a lifetime opportunity for the players from Penang as well as other states in the northern region to impress the coaches during the trial.
"The football trial also will be divided into a few age groups.
"For boys, it is open for under-10, under-12, under-14 and under-16 while for girls, it is open for under-12 and under-14.
"The selection panel will be led by Malaysian former football player and coach, Razip Ismail," he added.
Meanwhile, Soon said the state government values this type of programme because it is very beneficial in terms of the sports development in Penang.
"At the same time, I am also hoping that TH Global Football Camp to organise other programme as well in the future such as the football clinic for the football fans in the state," he said.
Football Fantasia 2020 (football-trial) will be held at City Stadium in Georgetown on Jan 18 (Saturday) at 9.30am.
The registration fee is RM100.
For further details, call 03-79556221 or 012-8972265.
Story by Riadz Akmal
Pix by Noor Siti Nabilah Noorazis