Story by K.H. Ong
Pix by Nur Afiqah Zainudi
SIA Boey, the old Prangin Market, is set to become an iconic landmark in George Town when a rejuvenation project kicks off soon.
"Our objective is to transform Sia Boey into an area that facilitates the coexistence of development and heritage conservation," said Chief Minister Lim Guan Eng in his speech at the launch of the Sia Boey Rejuvenation Project on March 25.
Penang Development Corporation (PDC), which owns Sia Boey, is collaborating with the George Town World Heritage Incorporated (GTWHI) to revitalise Sia Boey.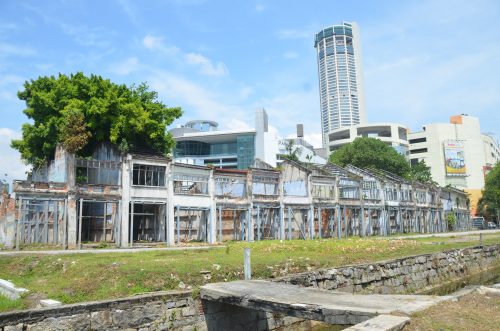 Present at the launch were Deputy Chief Minister I Datuk Mohd Rashid Hasnon, Deputy Chief Minister II Prof Dr P. Ramasamy, Komtar assemblymember Teh Lai Heng, PDC general manager Datuk Rosli Jaafar, GTWHI general manager Dr Ang Ming Chee, Penan g Island City Council (MBPP) mayor Yew Tung Seang, MBPP secretary Addnan Mohd Razali and PDC corporate communications division senior manager Shahril Cheah.
Lim said Phase 1 of the rejuvenation project would cost approximately RM6 million and is scheduled to be completed in August.
It includes rehabilitation of the Prangin Canal, conservation of the old Prangin Market and upgrading of landscaping at the site.
Phase Two will be the restoration of the shophouses and upgrading of its surrounding landscape.
"The vision of the project is to protect Sia Boey's heritage buildings and practices while promoting a sustainable and liveable public space," added Lim.
A two-week public exhibition showcasing the project's overall concept plan also started on the same day as the launch, first at Sia Boey market (March 25-30) and then at the GTWHI office at Acheh Street (April 2-6).